Mobile Apps Can Be Empowering & Great Usps For Any Star-Hotels In Kolkata
These days, a new generation of travelers is growing rapidly who are constantly relying on the mobiles for every type of searches, while on the go.
The wise step for a hotel would be to tap this opportunity of targeting mobile users, if it is not done yet. Big hotel brands all over the world have already embraced mobile application development in terms of empowering their guests, improving the service, smooth operation for the hotel staff and increase of sales revenue.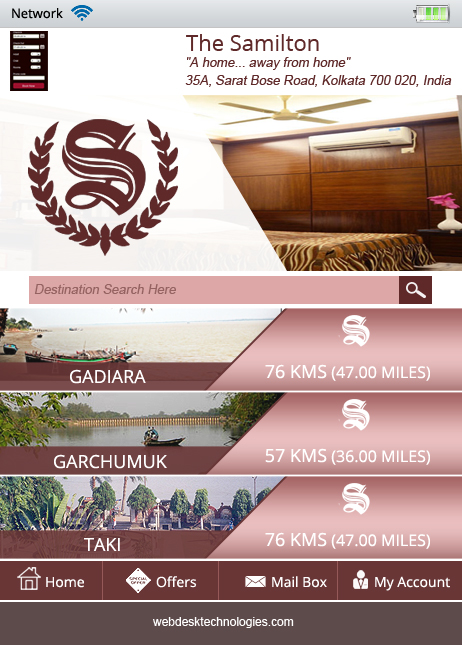 Not only that, if you develop a powerful and unique app for your hotel, then it could be one of the USPs for your brand.
How apps can be helpful for hotel guests
In this era of instant-gratification, travelers around the world wish for complete power on their travel experience. They don't have the time or patience to go for tedious over-the-counter check-in/ check-out process, or ring the staff every time they need something.
In these cases, mobile apps can be of great help-
There are many popular hotel mobile apps right now for travelers. One of them is i-Guest that is used by many branded hotels world over. An app like i-Guest offers plethora of services like – mobile check-in/check-out, ordering room service, making request to house-keeping staff, booking restaurant-seats or car-parking space, order for spa treatment etc.
Not only that, many hotel chains give the options to the guests to do a virtual 3-D tour of their various hotel properties in diverse locations and amenities, before they physically check-in.
Mobile apps also empower guests in respect of planning their itinerary, giving information on local tourist spots, reserving seats in any specific type of restaurant where they wish to dine in.
From the above points, one can see that mobile apps not only save guests from standing in the queue in front of hotel desk, but also give them a pre-checking-in experience on what type of services they are going to receive.
Mobile apps can be beneficial for hotel staff/management/authority in following ways-
Firstly, apps can cut off on the time from staff-guest interaction period- thus enabling the staff to spend more time on the task-at-hand and improving employee efficiency.
Mobile apps can be helpful to co-ordinate schedules with staff from various departments like housekeeping, room service etc. it can lead to reduction in labor-hours and more efficient execution.
Mobile apps empower hoteliers to upload interesting images of their property, mouth-watering specialty cuisine from the hotel's pantry- and it can be available in the mobile devices of users. These images can act as great advertisements for the hotel.
Many hotels that have night club and DJ- make music streaming app that help the guest to listen to/ download music-mixes, done by the DJ of that hotel. This app can be a great tool to attraction younger crowd.
Apart from that, apps can be utilized in various other models like- tracking the guest's preferences thus identifying popular needs, strengthen the loyalty card system for the guests, notifying them about the discounts or special offers throughout the year, or even gathering data from their post-stay experience and use it in for future publicity or service improvement.
From the above points, one can see that mobile apps are like gold mines- both for the hotel owner and for the guest. So if you are one of the nice hotels in Kolkata with great plans for future expansion, don't neglect the potential of mobile apps.