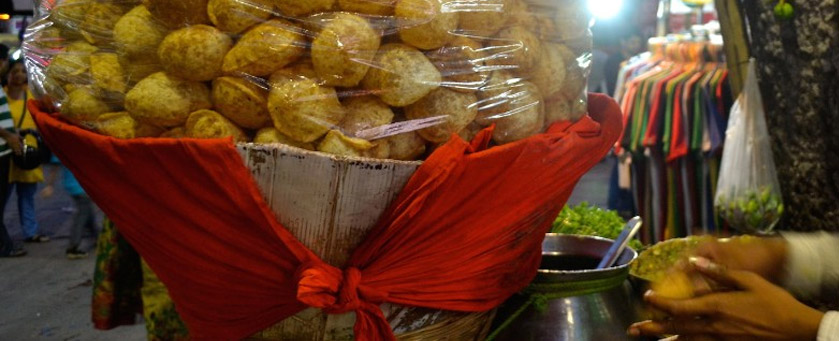 Exclusive Food Items You Can't Miss In Kolkata
It is nothing but a wonder how Kolkata has never disheartened its inhabitants rather the tourists with its amazing food items. If you ignore all other reasons to come back to Kolkata repeatedly, cheap eateries with exclusive food items will make you linger always.
Where to stay:
When it comes to choosing a comfortable hotel in Kolkata with a very reasonable price, Samilton hotel has no substitute. For its favourable location, you can enjoy a smooth access to many popular eateries or restaurants, multiplex, salons, banks and all other hi-street shopping complex within a walking distance.
Apart from your day out plan and must visit spots in Kolkata, here are some of the exclusive items that you shouldn't miss. Let's start with the snacks and the list will end with the desserts.
Snacks: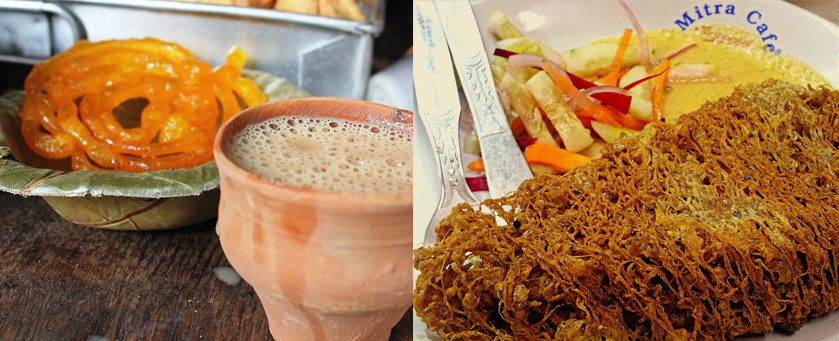 Delicious Combo from: Maharaja/Maharani Tea Stall
The awesome combo of Kachori, curry and jalebi create the perfect happy belly menu with the taste of spice, salt and sweet. This place is the best one ever for a street food experience in South Kolkata. Start with Kachori and end it with sweetness.
Chicken Kabiraji From: Mitra Café
Chicken Kabiraji: If you want to taste the traditional food of north Kolkata, then Mitra Cafe is the place you should never miss. This unique preparation of chicken, with ginger, egg, bread-crumbs, garlic and minced chicken will fill your stomach to the heart's content.
Street Phuchka from: Gariahat
Whether you love spicy food or not, you are crazily going to love these quite spacious tiny bombs, with spicy water and Chutney. They are so yummy that you may decide to have only two or four but won't stop until stomach is almost overloaded.

Main Course Dishes: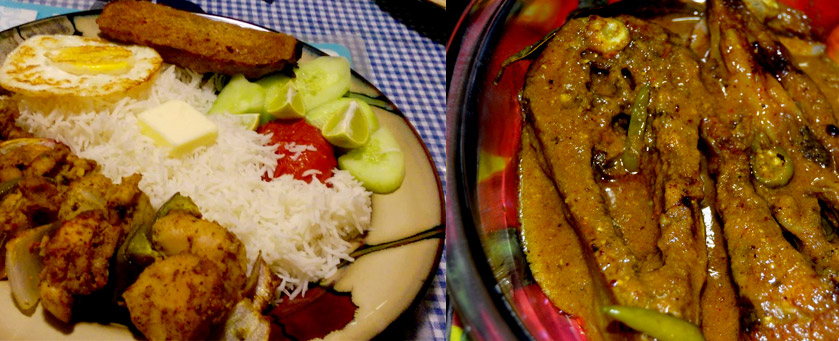 Chello Kabab From: Peter Cat
With the atmosphere of traditional but aristocrat Kolkata, Peter Cat in Park Street offers you the Chello Kabab. The unparallel combination of tasty chicken, mutton, egg, steamed rice and veggies will surprise you at once.
Macher Jhol: Bhajahori Manna
A trip to the city of Bengalis is incomplete until you try that staple food with rice and 'Macher Jhol'. For a better experience, knock at Bhajahori Manna and you will be amazed to see what more they have offered you along with it.
Biryani: Arsalan (Park Circus Seven Point Crossing)
This is something very special about Kolkata Biryani as the smell of desi ghee with spices creates a mesmerizing taste. The tender pieces of mutton will make the dish an unforgettable one.

Sweet Dishes: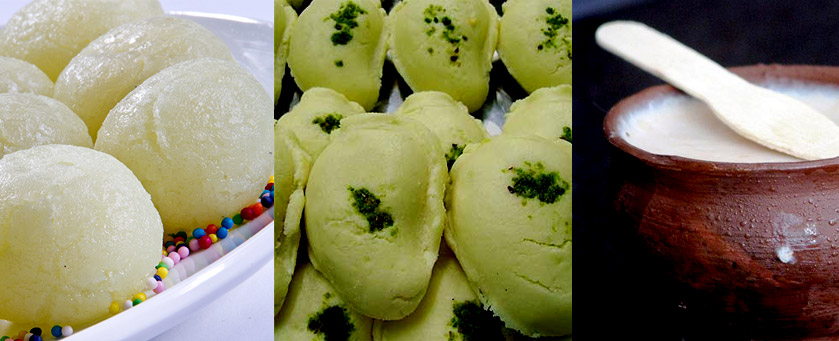 Rasgullas : K.C. Das, Bheem Chandra Nag And Bancharam
How much rasgullas are connected with Kolkata! If you have not yet tasted any in your life, rush to the most well-known sweetmeat sellers K.C.Das (at New Market), Bheem Nag (at Bowbazaar) or Banchram (in Ballygaunge). Having no Rasgulla in this city, is an injustice to yourself.
Sandesh: Nakur Nandy
Sandesh: With the topping of rich almond crusts, pistachios and some of the saffron strands, Sandesh of Nakur Nandy is made up with milk, sugar and healthy paneer. Try the ice-cream sandesh along with chocolate as well as strawberry flavours too.
Mishti Doi: Jadav Chandra Das & Bheem Nag
You will forget any kind of branded frozen yogurt you tried before. After a heavy lunch with Rice Macher jhol, Mutton Curry and more, 'Mishti Doi' is a perfect sugar-coating of the menu.